What is the future of Microsoft
Microsoft: This is where the future is developed
Microsoft's innovation machine is running at full speed. The software giant has unveiled a new application designed to make teamwork easier.

This involves creating avatars or holograms for colleagues. Despite the spatial separation, this should create the impression that the entire team is in one room. To implement the idea, Microsoft specially developed a mixed reality platform called Mesh, which is suitable for the use of the HoloLens 2 AR glasses, but should also work with smartphones, tablets and PCs.

With its in-house augmented reality glasses HoloLens, Microsoft can already "teleport" the conversation partner into the field of vision using a 3D scan. Microsoft also calls this effect "holoportation". The HoloLens works without a smartphone or an additional computer.
Home office is increasingly becoming part of our everyday life. And Microsoft is a market leader in home office software. Mesh is another important innovation from the software giant that will support remote work in the future. Let profits run!

Note on conflicts of interest:
The author Emil Jusifov directly holds positions on the following financial instruments mentioned in the publication or related derivatives that benefit from any price development resulting from the publication: Microsoft.
Book tip: Hit Refresh
Who invented it? Microsoft. Long before the iPad or Kindle existed, Microsoft had already developed a tablet and an e-reader. Only: It had never used the products and fell behind against new innovators like Apple and Co. The solution: A complete overhaul - Microsoft developed a strategy that encompasses all areas of the company for the future handling of new technologies such as artificial intelligence and mixed reality. Using the example of Microsoft, "Hit Refresh" shows how empathy and energy can be used to get the best out of the possibilities of technical progress. Nadella connects the whole thing with his own fascinating life story and world of thoughts.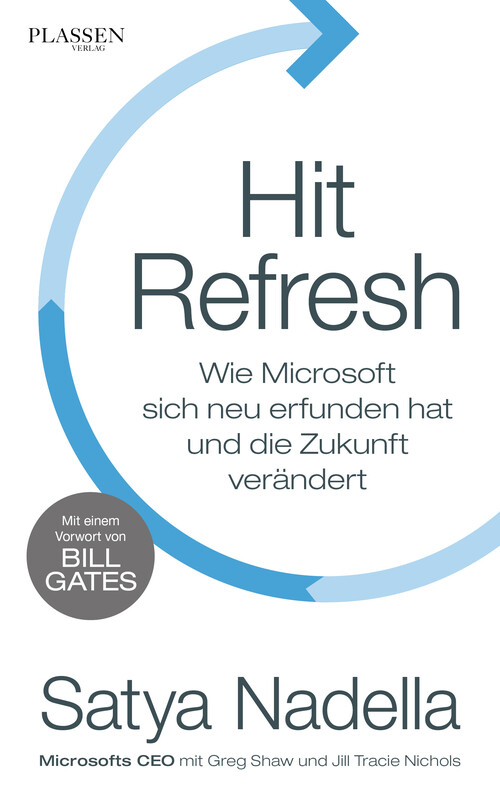 Authors: Nadella, Satya Nichols, Jill Tracie Shaw, Greg
Number of pages: 256
Release date: 05.03.2020
Format: Soft cover
ISBN: 978-3-86470-681-3