Die with a smile
Alice, Willi, Steffen, Johannes and Adam are in Rainbow Land today. Criss-cross, someone has written the names of the seriously ill children on a blackboard with colored chalk. On this small board in the care area of ​​the Düsseldorf Children's Hospice Rainbow Land, everyone can see who is currently visiting. "Guests, not patients." Rainbowland founder Gabriele van den Burg attaches great importance to the difference. Every child who comes here has an illness or disability from which they will die early. But the rainbow country wants to "make the rest of the time on earth as beautiful as possible" for them.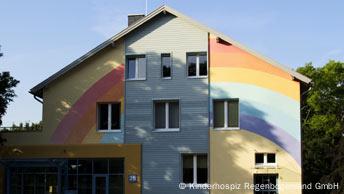 The Children's Hospice Rainbow Land Düsseldorf was founded in 2004
"Children's hospices are not death houses, even if people die here." Gabriele van den Burg sounds a little impatient when she says that. She often has to explain the difference to a hospice for adults, where people only come to die. Children's hospices support families with children who will die early from the day of diagnosis. They give the family a break from the stressful everyday care routine. Relatives can live in the parents' area of ​​the children's hospice or leave their child in the care of the care team. In Germany, the health insurance pays for a stay of four weeks a year. If a child has to stay longer for special reasons, this is financed through donations in Rainbow Country.
More outpatient services
The rainbow land in Düsseldorf is one of five children's hospices in Germany, two more are under construction. The first was created in 1998 in Olpe, North Rhine-Westphalia. "In Germany the subject of infant death is too big a taboo", says Oliver Hermanns, board member of the Federal Association of Children's Hospice. "We lag far behind compared to Great Britain." The World Hospice Day, which will take place for the first time on October 8, 2005, is intended to make it clear how important such facilities are. "Helen House" was founded in Oxford as early as 1982, the very first children's hospice. While Austria, Switzerland and Mallorca are currently considering the establishment of children's hospices, there are already 27 inpatient facilities and numerous outpatient children's hospice services in Great Britain.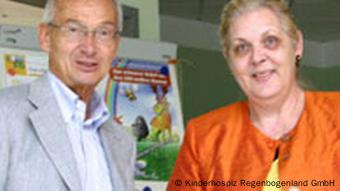 Rainbow Land founders: Dieter Sehlbach and Gabriele van den Burg
The rainbow country also offers an outpatient service. Volunteers give affected families in the area "practical help at home", says Gabriele van den Burg. "We go shopping, mother the sick child or pick up siblings from school." There are currently around 15 outpatient children's hospice services in Germany. "Far too little," says hospice expert Franco Rest, director of the Dietrich Oppenberg Academy for hospice education and culture in Essen. "The German children's hospice movement must concentrate on outpatient services." But collecting donations for a house is easier.
Dependent on donations
The entrance hall shows how important donations are for Rainbow Land. Symbolic checks presented to the association hang on the white walls. A staircase leads down to the children's area, the heart of the rainbow country: the ceiling is partially glazed, the floor is made of light-colored parquet. There are the children's rooms, the bathroom with a bathtub and a large changing table and the dreamland where the children can relax on a heated water bed.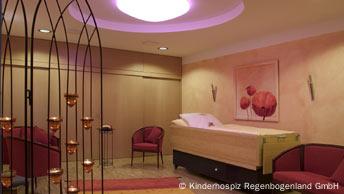 Here parents can say goodbye to their deceased children
In the middle of the atrium there is a dummy fountain made of stone, on the edge a lantern and a frog figure with a golden crown. There are four stones next to it. A rainbow is painted on each one, including a name: Vanessa, Torsten, Jonatan and Yves Pharell. They were all guests in Rainbow Land before they died. The fact that there will soon be more stones at the fountain "we cannot change", says Gabriele van den Burg, "but we can make sure that the children die with a smile."
Alice, Willi, Steffen, Johannes and Adam will also die - in a few months or years. Your name will then no longer be on the stand, but on a stone at the edge of the fountain.